Youth Association
St. George Youth Association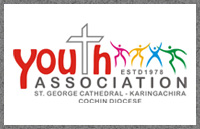 is the Youth Wing of St. George Cathedral, functioning under the Holy See of Antioch and the entire East. It functions as per the supreme command of the Patriarch of Antioch and all the East Karingachira Youth Association is first of its kind which not only organizes events but also conducts social gathering to unite the Indian community. Established in 1978 with a group of enthusiastic Cathedral youngsters who shared the same passion towards sports, activities and socializing. We have been growing from strength to strength and today we are proud to say that over 200 members are part of Karingachira Youth. The male members of the parish aged 18 to 45 are the members of the Karingachira Youth Association.
Karingachira Youth is a dedicated group which believes in giving everyone a chance to play an active part for oneself and for their community.

HALOM EMPORIUM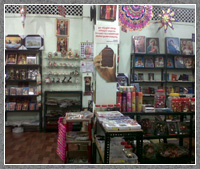 The Youth Associations coordination and collective responsibilities are sought in various Cathedral development programs like organizing prayer meetings, Bible classes, meditation, X'mas carols, Carol Night, picnics, annual youth camps, retreats, assistance for relief and charity works, social service, cultural programs, visiting and caring the mentally retarded and physically handicapped inmates, providing refreshments, food, clothing etc.
St. George Youth Association,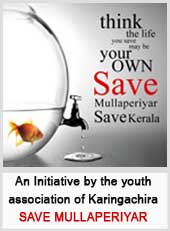 Karingachira extended its wings on Dec 1st 2008 by introducing its new project a Religious Book Stall in the name of "HALOM EMPORIUM" at the Cathedral premises. This new venture by the Youth provides Religious books, Children's Bible, CD's, Photos etc..at a very reasonable rate and the income from this stall is fully used for Charitable needs.
The other major milestone of the Youth Association of Karingachira is "Georgian Voice Magazine".  This monthly magazine plays a key role in informing its Parish members the Cathedral's day to day developments, news activities, religious matters etc.

Key Roles Played by the Youth Association of Karingachira Cathedral.
Karingachira Youth Association volunteers anytime –everywhere service for the parish festivals and feasts.
Organize Career Guidance Programmes, Health Camps, Bible Classes etc.
Organizing X'mas Carols every year by visiting almost 1000 parish houses.
Carrying out Charitable and relief activities & often takes part in Orphanage visits.
Active Participation in "Manjanikkara & Kothamangalam Pilgrimage Services by organizing a well equipped medial team.
Organize Sports/Tournaments/ Cultural Activities for the Youth.
Active Participation in " Cathedral's Family Unit" activities
Building and Renovating houses for the poor.
Our Mission:
Our mission is to build positive growth pathways for our Cathedral members and also for our society through social & religious activities.
In collaboration with our Cathedral other charitable organization, such as Elders Association, Vanith Samajam, Sunday School, Charity Service Scheme etc. we play a key role in the development of our society.
This is a non-profit organization and operates on generous donations made by members and sponsors.

Volunteering is an altruistic activity; Karingachira Youth intends to promote its brand for a good cause.

Our work is about relationships that we build with you for a stronger community & we believe in uniting us all as a family.
Location & Contact Details
St. George Youth Association
C/o St. George Cathedral, Karingachira,
Irimpanam P.O, Ernakulam, Kerala – 682309

Email – karingachirayouth@gmail.com